Information for Members
67th Annual General Meeting (AGM)
Thursday, September 23 at 6:30pm
This year's AGM will feature the following:

•    Approval of the 2020 AGM minutes 
•    Approval of the 2021/2022 audited financial statements 
•    Designation of the financial auditor for 2021/2022 
•    Election of the 2021/2022 Board of Directors 
•    Launch of the new Member Portal 
•    Por Lay Shek / CLYS Scholarships 
•    Guest Speaker – Claudia Ferryman 
After registering, you will receive a confirmation email containing information about joining the virtual zoom meeting. 
For more information or if you have any questions, please email ekatchen@communitylivingyorksouth.ca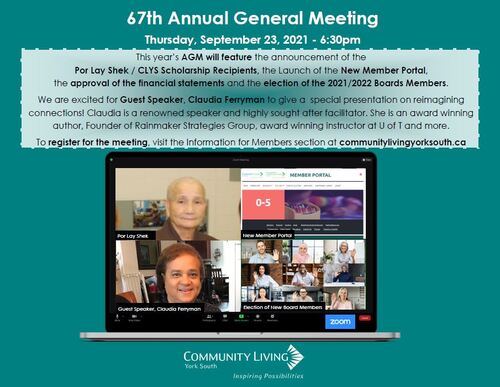 About Our Guest Speaker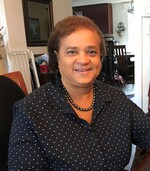 Webinar facilitator Claudia Ferryman is a renowned speaker, author and highly sought-after consultant with more than 20 years of experience in organizational psychology, communication, leadership and influence, mindfulness and emotional intelligence. She is the Founder of Rainmaker Strategies Group and an award-winning instructor at the University of Toronto.
She holds a degree in Organizational Psychology and multiple certifications in Leadership, Compassion Fatigue, Emotional Intelligence, Mindfulness, Mental Health First Aid, CBT, Neuro-Linguistic Psychology and Behavioral Analysis.
Claudia is the author of Emotional Resilience and the bestseller guidebook The Communication Chameleon. Claudia has been published as a subject matter expert in Elle, Readers Digest and Profit Magazine.
Member Documents:
Bio's For Board of Director Candidates for 2021 / 2022
Elissa Freeman
Elissa Freeman is a PR and pop culture media expert and veteran communications strategist. Her reputation for reigniting the image and authoritative voice of her clients, or providing provocative sound bites on issues of the day, makes her the go-to expert of choice.
For more than 25 years, Elissa has been privileged to provide strategic communications counsel or take a leadership role among complex and high functioning teams including: federal agencies, regulatory bodies, healthcare organizations and foundations, for profit and not-for-profit organizations.
As principal of @elissapr communications, Elissa is also a sought-after media guest putting her in the enviable position of both shaping and creating the narrative when it comes to talking about her two favourite subjects: PR and pop culture. She is a frequent contributor to the Global News Radio Network and can be heard weekly on AM640's John Oakley Show.
She is also the co-founder of The Leadership Express, a targeted, effective, non-traditional approach helping executives and leaders prepare for their next career trajectory, transition or pivot. 
She lives in Thornhill with her husband and daughter.
 
Philip J. Lanzarotta
Phil is currently a partner in Barocco Coffee Co. Ltd. (an artisanal coffee roaster) located in Mississauga, serving the food service industry in the GTA.  Barocco provides turn-key coffee solutions (fresh roasted coffees, imported loose leaf teas, specialty milks, syrups, chocolates, equipment, accessories, service and training) to local, fine restaurants, hotels and cafés selling premium products.
Prior to Barocco, Phil held executive positions with multiple companies such as principal owner of RxMedia (a continuous medical education firm), Sr. Director of Customer Logistics Services and Real Estate for Kellogg's Canada and a member of both their Canadian and Sales leadership teams, VP Sales, Marketing and Merchandising for Lanzarotta Wholesale Grocers (formerly the largest independent food distributor in Canada), ultimately selling the family business to Sobeys in 2003. 

Phil is currently a Board member for Peaceful Hearts in Georgina, sits on the financial review committee of CLYS, Director for Five's Company by the Lake, as well as an acting Eucharistic Minister at Our Lady Queen of the World, Catholic Church in Richmond Hill.. He has been a past President of the Board for Community Living York South, past Co Chair of FCPC's Supply Chain committee and past Co-Chair of GS1's Standard and Services food industry board, as well as a past member of the following organizations; Canadian Food Industry's Top-to-Top Executive Committee, Board of Director for the Canadian Counsel of Grocery Distributors, and Villa Charities board member.
Keira Lum
As a healthcare business professional, Keira is focused on improving operations and quality initiatives for patients and front-line staff in the healthcare industry. Her experience working with large and small health care centres across Canada, have allowed her to gain insights to foster strategic development and innovative improvements. She holds a BSc in Kinesiology and Health Sciences from York University and an MBA from Dalhousie University. Keira is passionate about helping others who are less fortunate and currently advocates for mentally and physically disabled people as a board of director for Community Living Ontario. In her free time, she enjoys being active outdoors, cooking, painting, and reading. 
Rahila Chughtai
Rahila Chughtai has served as a board member at CLYS for the past 3 years. During this time she was also involved in the Family Task Force and has been the CLYS representative on the Special Education Advisory Committee of the York Region District School Board.

Rahila served as Chair of the Family Advisory Council at the Children's Treatment Network from 2018-2021. She advocated for and successfully executed the inclusion of people with disabilities in the advisory council. She also identified opportunities for CTN and CLYS to partner and work on engaging immigrant and ethnically diverse families.

Rahila has been a member of the Leadership Council of Autism Ontario's York Chapter since 2017. She also volunteered for the York ASD Partnership, working on the Communications Working Group for 4 years.

Outside of her volunteer work in the disability community, Rahila works in administration in the Long Term Care sector. Previously she worked as a Sales and Marketing Professional for over 10 years engaging in direct client interaction, presentations, and strategy development.

Rahila is the parent of an adult with disabilities. She is passionate about advocacy and inclusion, and loves rock music and traveling.