Community Living York South Get's Accredited, We did it!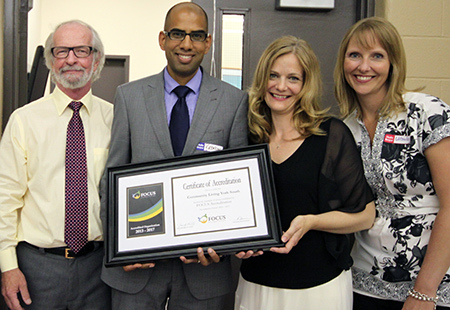 In March 2013, Community Living York South underwent its first ever accreditation review with a third party, FOCUS Accreditation Ontario.  We were excited to achieve a 4 year Accreditation certificate indicating that we met/exceeded standards around quality service delivery in the developmental services sector.
FOCUS Accreditation works with various community service providers in Ontario. These include agencies that support people who have developmental disabilities, shelters that provide support to women and children, and services that provide deaf blind intervenor supports.
There are 11 Domains, or areas within an organization, that are reviewed intensively by FOCUS. These are grouped into 4 categories and include: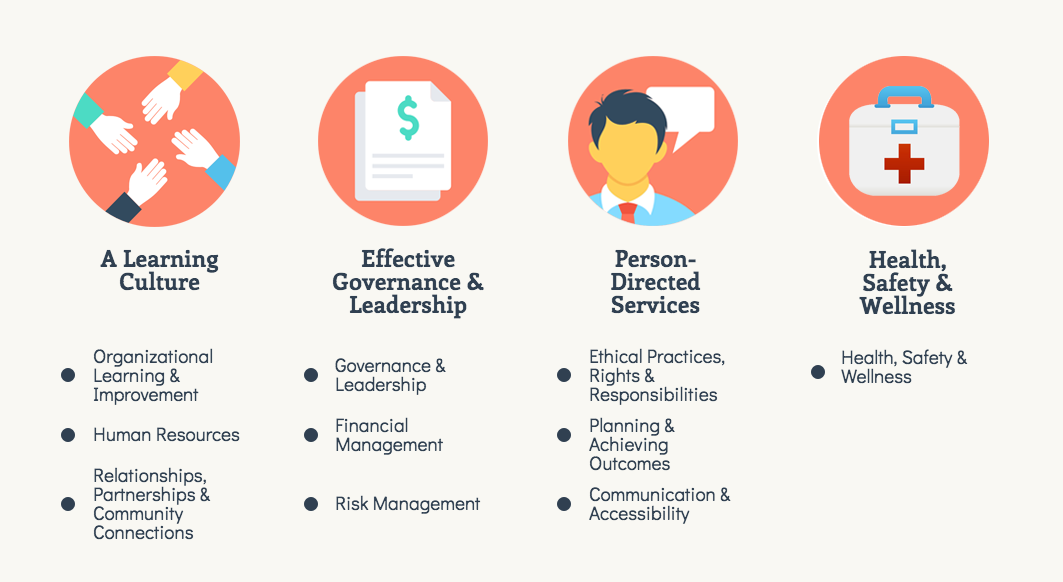 There are 6 Service Specific Standards that are applied depending on the type of services an agency provides. These include:
Services in a Person's Home
Services Outside the Home
Services for Children & Their Families
Intervenor Services for People who are Deaf and/or Blind
Women's Services
Community Living York South will be participating in its second Accreditation review in the beginning of 2019.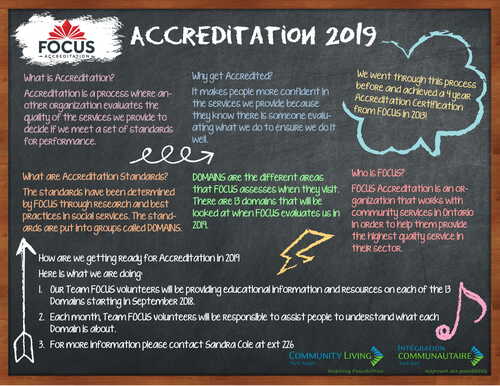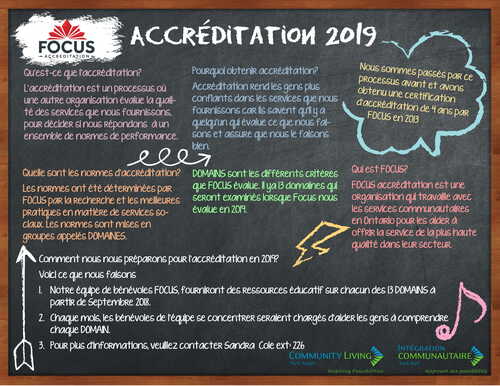 Other key highlights of the Accreditation report:
Recognized Achievements
Community Living York South exceeded standards by:
Having measures in place to ensure health, safety and wellness for people supported and employees;
Upholding and promoting people's personal rights and freedoms;
Supporting the role of family and friends in the lives of people using services;
Responding to the diversity of the community;
Having professional, caring and compassionate staff and a strong leadership team;
Encouraging a culture of organizational learning and improvement;
Developing innovative programs and services to respond to the unique and diverse needs of the community.
Areas for Strengthening
Community Living York South has developed a quality improvement plan in response to recommendations made by FOCUS. This plan will include:
Adoption of policies and procedures related to the management and protection of records for people in services;
A commitment to staff training on augmentative communication strategies for people we support and how to use them;
Looking at ways to include input from people using services in employee recruitment processes.
Community Living York South is excited to share the news of our success. Media releases, letters and notices were distributed to all stakeholders, celebrating our commitment to high quality services.